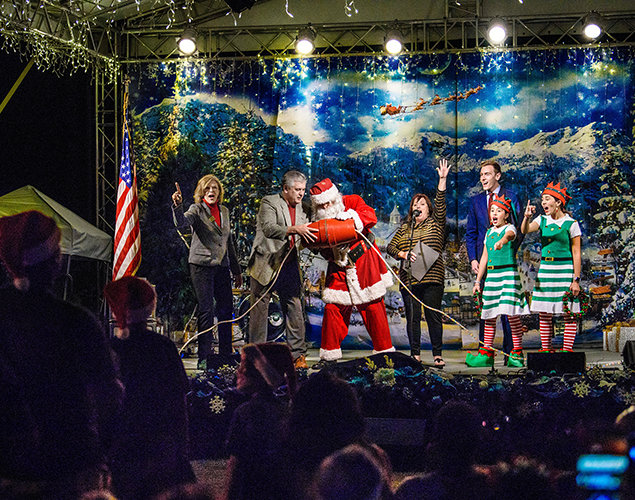 "I have been volunteering in Clearwater for nearly 30 years," says Pam Ryan-Anderson who has lived in Clearwater since 1985. Ryan-Anderson (shown right, at the mic) is the executive director of the Clearwater Community Volunteers (CCV), a nonprofit which has put on annual family-friendly events to benefit the Clearwater community for 27 years.
"CCV has a core group of about 15 volunteers, but we have hundreds of volunteers that help us with Winter Wonderland, the Ginormous Easter Egg Hunt, our Fashions with Flair fundraiser and other events we do throughout the year," says Ryan-Anderson.
For over 25 years, the popular egg hunt has provided the children and families of Clearwater with a fun and safe place to enjoy Easter activities in Coachman Park. In 2019, the CCV team welcomed nearly 8,000 children (of all ages) who searched for 25,000 plastic eggs stuffed with 125,000 candy pieces in Coachman Park.
An estimated 5,500 volunteer hours are spent building Winter Wonderland in the Osceola Courtyard every year. Ryan-Anderson says, "Being a food and toy drive makes Winter Wonderland even more special"—in addition to the 83 Christmas trees, the petting zoo, pony rides, playground structures, the train ride and the endless amount of lights and decorations that fill the night sky.
Just across the street from the Osceola Courtyard is the new CCV center, opened last year for all nonprofits in the community to hold their activities and meetings.
To give kids across the Tampa Bay Area that unforgettable experience, "I literally have to change my life to pull it off every year. But I love it."
Watch her episode on demand. MeetAScientologist.TV/PRyan