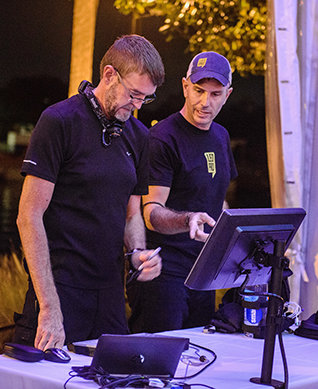 "Because my mind works fast on solving problems, I love to solve them. That is what a producer does," says Federico Lorente, a Clearwater-based audiovisual producer.
Lorente and team arrive on site and literally build an event stage—lighting, sound and all—from the bottom up. With his work, he looks to bring high-quality productions to Clearwater, shows people will remember and definitely make plans to return and see again.
One such production, now in its 27th year, is Winter Wonderland, a three-week-long food and toy drive in the Osceola Courtyard. Started by Clearwater-based nonprofit Clearwater Community Volunteers (CCV), this event draws thousands of visitors to downtown Clearwater each year.
"I normally spend three weeks working late on that, and I put four full days in on the setup and breakdown of the stage itself," says Lorente, who strives to create high-quality products used in Clearwater events, "so the community feels there is a sense of prosperity. I strive to make Clearwater fun, creative and have things happening all the time and to make people feel more proud of their city.
"I love Clearwater's beach, the manageable traffic and how green it is," says Lorente. And no matter what project he is working on, "I want to help continuously improve the quality of living in our community."