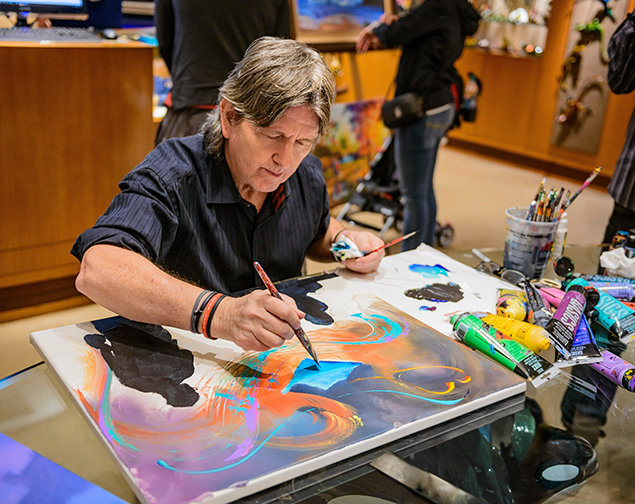 "He is truly a great artist," says NBC News of American oil painter Jim Warren. Described to this day as one of the most creative and prolific artists of our time, his painting of fine arts and personalized portraits have been sought by world-famous celebrities and business leaders. His career as an artist started at the age of 2 years old, drawing on and off up through his teen years.
"When I was in school, I was inspired by the art around me," says Jim Warren, who started selling his art in high school in Long Beach, California. "Music, art, artists were making changes in the world, and I wanted to do the same."
Using traditional oil paint on stretched canvas, he started his career through the 1970s, earning first place at large outdoor art shows in California. And from there he took off.
When he found Scientology in 1978, Warren says, "I was starting to become successful, and I was having a hard time handling my success. Scientology helped me to handle that. … It takes away distractions, worries and problems by giving me the how-to to handle them, so I can mentally, physically and spiritually do my art. It keeps me in a good frame of mind so I can create more."
Entering the 1980s, Warren painted album cover art and hundreds of magazine illustrations. He did album covers for Alice Cooper and Bob Seger, who won a Grammy Award for best album package for the Against the Wind album.
Warren, who has lived in Clearwater for 25 years now, has also illustrated over 200 book covers for major authors such as Arthur C. Clarke, Clive Baker and Robin Cook.
Warren's 1990s painting, "Earth—Love It or Lose It," received critical acclaim and was featured in magazines, billboards and on shirts of the time—and still is today, making it an iconic symbol of the environmental movement.
Always and forever, Warren believes his greatest accomplishments to date are the many letters and communications he has received from around the world of fans sharing how his work inspired them, making their days a bit brighter. "The fact that my art can create an effect like that for some people and act as a positive influence in their lives means a great deal to me," Warren says.