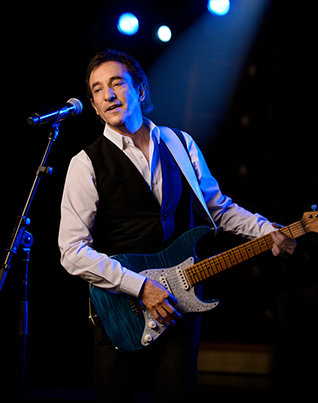 "Everywhere you look, there are so many good things happening!" says American singer, composer, lyricist and Multi-Platinum recording artist David Pomeranz, who loves Clearwater.
Pomeranz says, "There are many people who enjoy living in this city. I tell my friends, everyone I meet, about Clearwater. I love living here, and I want the community to flourish. It's common sense to make a vibrant place to live which everyone can enjoy."
Born in New York City, raised on Long Island, Pomeranz taught himself to play guitar and drums and learned piano. By the age of 14, he started writing songs and playing in rock bands.
Now a seasoned professional, Pomeranz's songwriting and recording projects have generated 22 Platinum and 18 Gold albums, selling over 40 million records internationally.
He's written songs for scores of artists such as Barry Manilow, Missy Elliott, Freddie Mercury, Isaac Hayes and Bette Midler, to name a few. Pomeranz loves living in Clearwater because it is "a perfect place to rest and get things done" when he is not touring around the world.
In addition to musical composition and his personal performances, Pomeranz is also an adept composer for musical theater. His shows have premiered in London, off-Broadway and Broadway. He is hard at work at home, and even right now he is on not one, but two different musicals. "And they are both on deadline!" exclaims Pomeranz.
Pomeranz believes that his greatest hits are the contributions from him and actress wife, Kelly Yaegermann, in creating the first Scientology mission in Manila, Philippines, plus working with the Philippine DEA, the American Red Cross and Narconon drug rehab.
Moving to Clearwater 16 years ago, his passion to help others can be seen in the support he provides to 11 different charities in human rights education, literacy and more.
Through the arts, he desires to uplift his fellow artists and contribute to a better world "where art doesn't degrade but inspires."